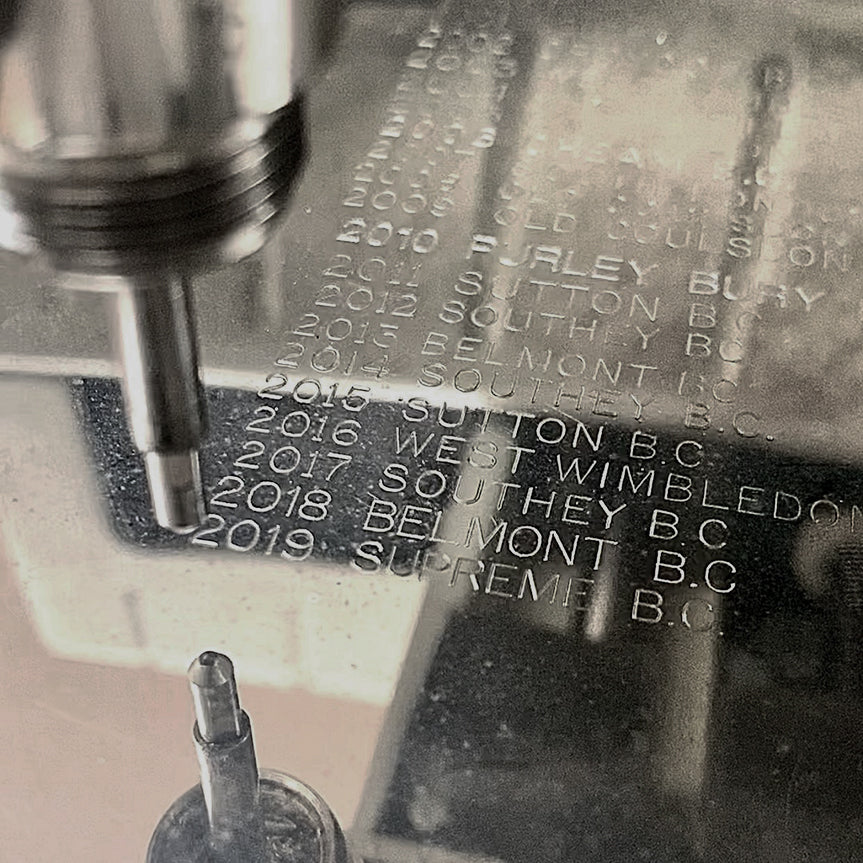 Adding Names
Congratulations, you won! For the rest of the year, your name will assume its rightful place amongst the long list of winners that currently adorns your competition trophy.
Together, we'll help you get your name engraved for all the world to see. Contact us today to have your name expertly engraved into metal, glass, or plastic.
Any Trophy, Any Shape
What does your award look like? Most will have a standard base shape to add the winners names each year — either square/rectangular, circular, or some kind of multi-sided polygon.
For most awards, an aluminum plaque can be fixed to the flat edges of the award's base. In the case of presentation cups with a circular Bakelite base, we can either engrave your name directly into the base (going over the words with white wax for clarity) or affix a plinth band made of solid silver, silver plated or nickel plated.
Glass Award Engraving
Glass awards are amazing. The enticing way they play with light, drawing the eye… they're truly a cut above their aluminum or plastic counterparts. At Broadway Engraving, we use our state-of-the-art Gravograph CO2 machine to ensure your engraving is performed at the highest standards.
Unlike traditional awards or plaques, glass awards offer plenty of engraving area, and can be reverse-engraved with your name, text, or logo, ensuring the front remains smooth to the touch.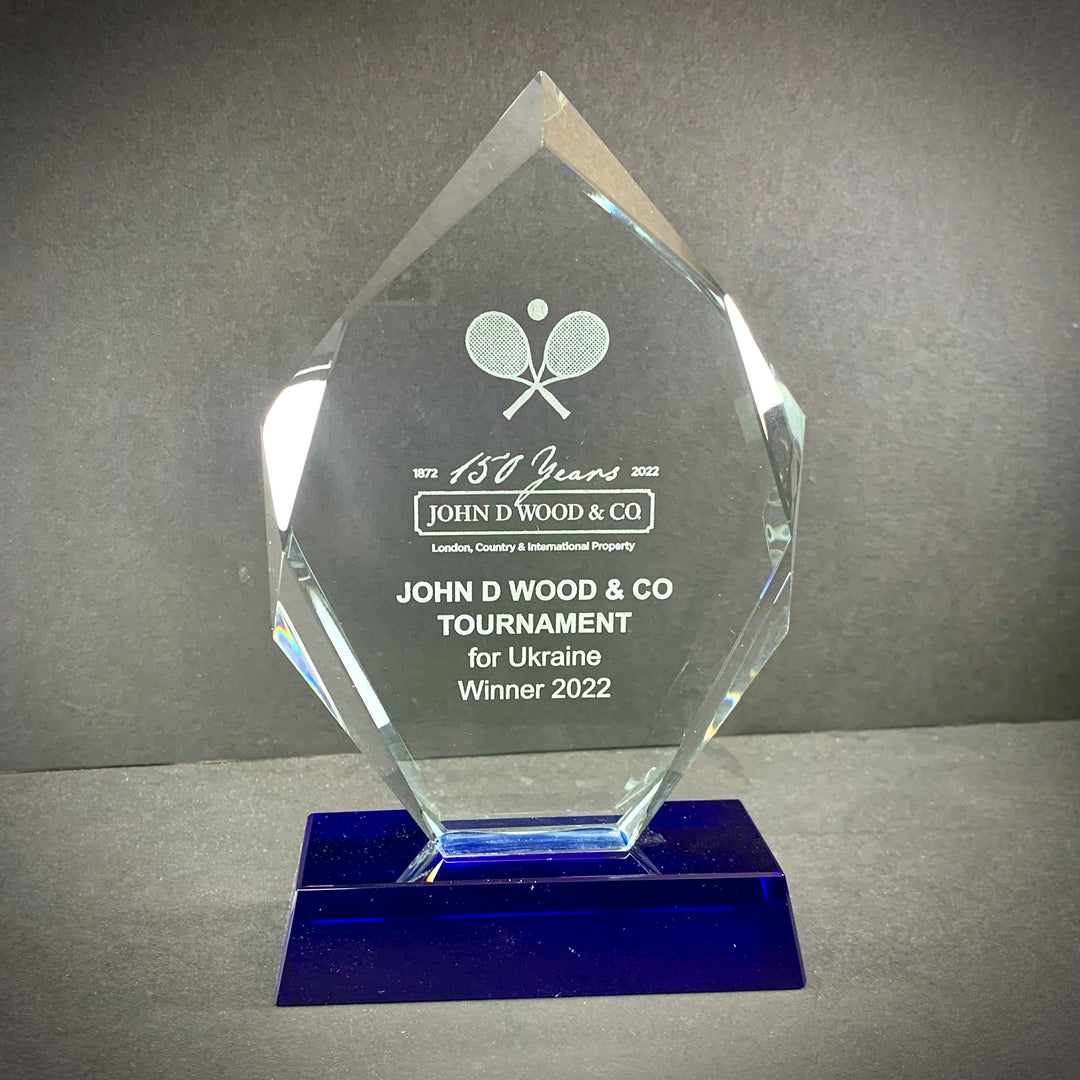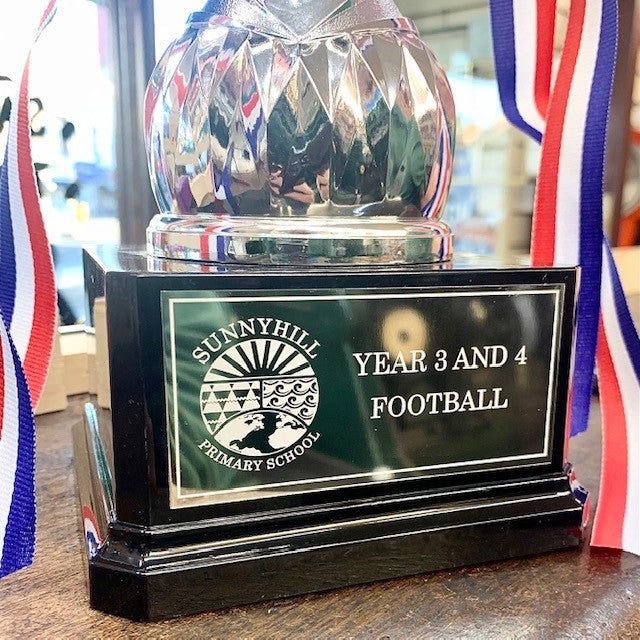 Traditional Plaques Plaques and Plinths
More traditional awards like trophies and cups can be adorned with a silver or gold aluminum plaque. We'll then use a diamond engraver to expertly engrave your message (no character limit), attaching the finished plaque as you require. For a more cleaner finish we also engrave the plaques using our fibre laser.
Alternatively, we can provide fully-engraved aluminum plaque with an adhesive backing — simply peel and stick. Please note: we can accommodate custom sizing as well. Contact us with your specifications and we'll cut your plaque to fit.
Medals
Just completed a marathon? First place at your swim meet? Broadway Engraving is happy to help you add the date, message and any logos or imagery you desire to your new medal. The engraving is completed in-house using a diamond or with our fibre laser to ensure a smooth, flawless finish.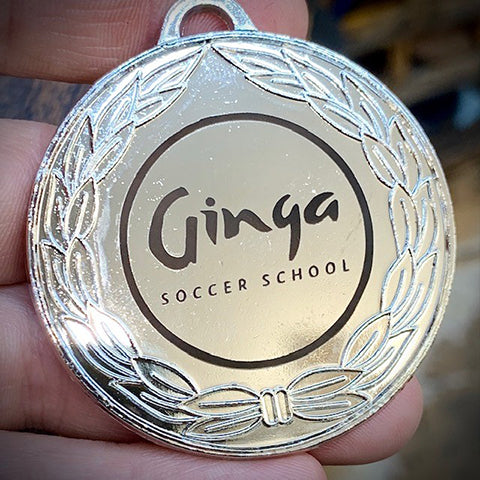 Bulk Awards, Custom Orders, and More!
If your sports club, school, or pub quiz tournament requires a massive, end-of-year awards ceremony… we've got you covered. Broadway Engraving works hard to offer competitive pricing and the best turnaround time in the business. For custom orders or discounts on your bulk awards, shoot us a quick message at sales@broadway-engraving.co.uk.