Brass Plaques
Brass is bold. It stands out, looks great, and is the perfect place to engrave your message, logo, or design. We use 1.5mm polished brass for all our all our engraved brass plaques, using a precision cutter for a deep, long-lasting finish that will continue to impress for years to come. For added contrast, we can infill your engraving with black before finishing with your choice of beveled edges or counter-sunk holes for fixing your plaque to the wall. Prior to engraving, we'll send you a layout for your approval (unlimited revisions included).

A word to the wise— brass will naturally tarnish over time. Use Brasso or another polishing agent to keep your plaque looking amazing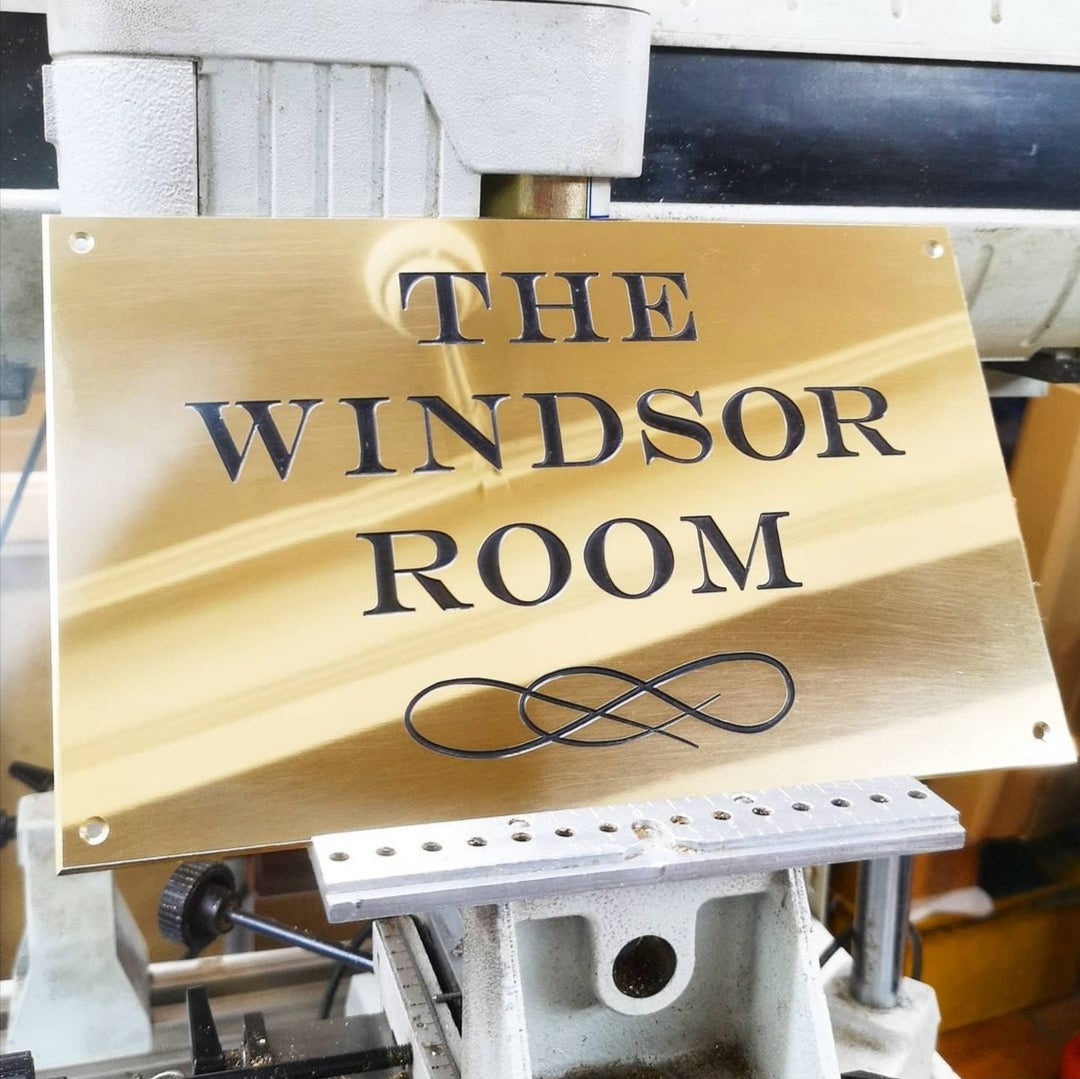 Acrylic Plaques
Sensible, versatile, and overall considerably more affordable than metal or wood; the acrylic plaque is a great option for signage, advertising, promos, gifts, and more! Our plaques are two-ply acrylic, using two different colors between the layers. By cutting through the top layer, the color on the bottom shines through, helping to make your message highly visible and readable.
Our acrylic plaques come in 0.2mm, 0.6mm, 1.5mm, and 3mm thickness and can be cut to any size or shape (however, keep in mind the maximum length/width we can accommodate is 600mm x 300mm). If your signage will be placed outside or in a high-traffic area, we're also proud to offer a more hard-wearing external acrylic to help ensure your message stands the test of time. Your plaque is also UV-stable, meaning it won't fade over time due to prolonged sun exposure. Choose from one of the two-play color combinations below, or contact us today if you have something specific in mind:

● Mirror Gold / Black ● Mirror Silver / Black ● White / Black ● Black / White ● Red / White ● White / Red ● Green / White ● Blue / White ● Yellow / Black ● White / Blue ● Orange / White ● Matt Gold / Black ● Matt Silver / Black ● Black / Matt Gold  
Stainless Steel Plaques
At Broadway, our stainless steel plaques live up to their name. Great for signage, decoration, or gifts; these plaques don't tarnish or oxidize over time, meaning your design will continue to look great years after you first fix it to the wall.
Using our Fibre Laser Engraving machine, we draw the carbon from the metal as we work, giving a crisp, clean, dark matte finish to your design. With such a precise piece of equipment, we'll be able to engrave your design entirely to spec, with lines and designs that can be as thin as just 0.5mm
Aluminum Plaques
Using the same shiny, eye-catching 0.5mm aluminum used in our trophies, these are easily the category leader when it comes to, "everyday metals". Come to Broadway, and we'll help you create plaques for your trophies, awards, or gifts with the help of our laser-engraving machine. For something a little different, select from our stock of anodized aluminum in 1mm, 1.5mm, and 2mm thickness.